Where are we Located?
---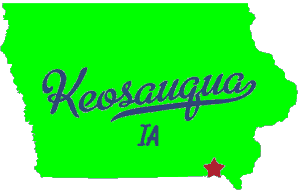 Our actual address is 806 1st Street, Keosauqua, IA. As I previously mentioned you may not have a clue where Keosauqua, IA is so I will try to help you out with the map on the right. We are in the Southeast corner of Iowa nestled on the banks of the Des Moines River in Van Buren County. This general area is commonly referred to as the "Villages of Van Buren". Visitors say life in the Villages moves at a slightly slower pace and that friendliness is a virtue among local residents. Some things may be slower but when it comes to technology we have helped to make the area quite progressive. The area that we serve is normally less than 30 miles of Keosauqua but of course there are always exceptions. Following are a few of the communities that we normally provide service to:
Farmington, IA = 17 miles
Bonaparte, IA = 12 miles
Cantril, IA = 12 miles
Milton, IA = 17 miles
Birmingham, IA = 12 miles
Stockport, IA = 15 miles
Donnellson, IA = 28 miles
Douds, IA = 18 miles
Finding us in Keosauqua is quite easy as 1st Street is what you probably think of as Main Street because it is where most of all the businesses are located. We are only two and one half blocks off of Highway #1. Going north on 1st Street you will pass the library in the first block, the bank in the second block, then in the third block you will find us right next to City Hall.
We will be looking for you.
Copyright © , Creative Computer Concepts.